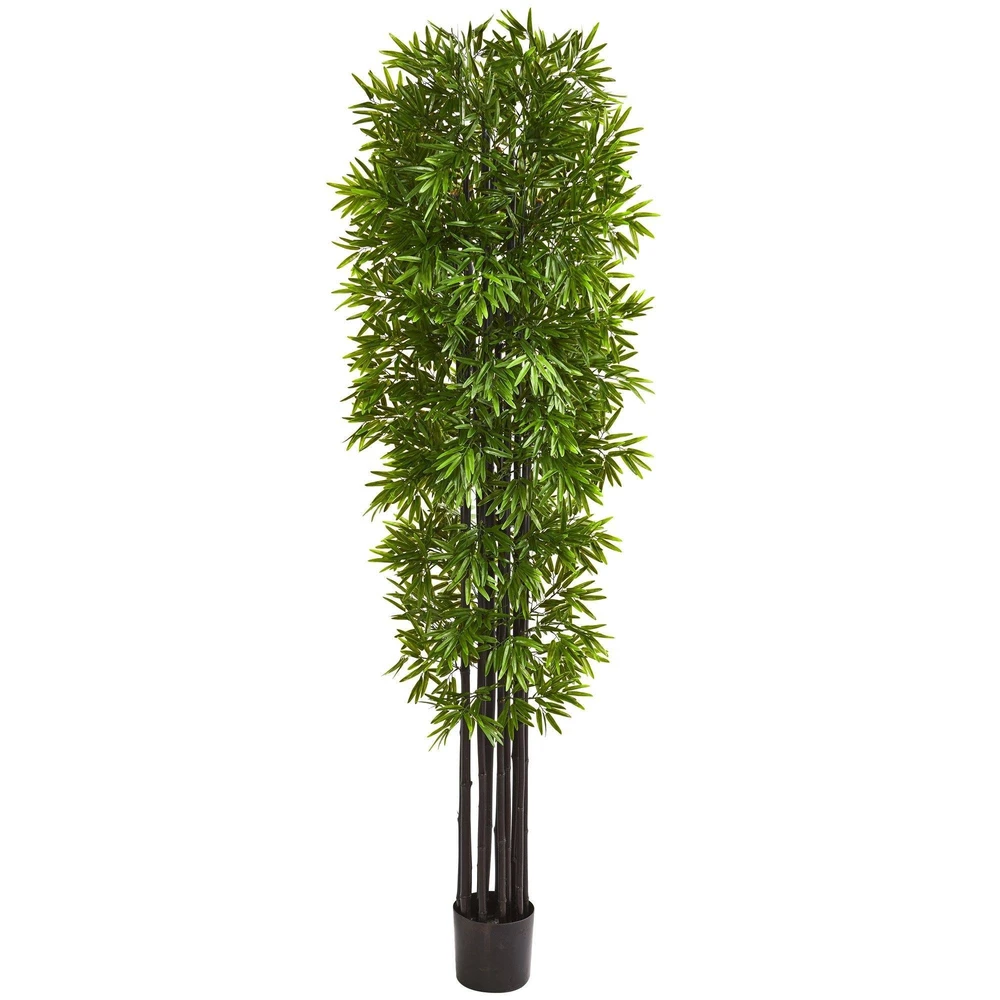 7′ Bamboo Artificial Tree with Black Trunks UV Resistant (Indoor/Outdoor)
With seven feet of small, leafy clusters resting atop dark umber stalks, you're able to bring the refined yet exotic mystique of the Far East into your home with this artificial bamboo tree. Graceful as it is detailed, this symbol of strength can replace rigid corners with warmth just as well as it can redefine outdoor living spaces, all with no maintenance required. Bring the serenity of the forest in China to your outdoor areas and retreat to an exotic oasis after a long day. This is one of the best artificial garden plants according to our customers, hint, they are in love with it. Designer tip: Even if you have a narrow outdoor balcony, you can use this large fake plant as a divider between your balcony and your neighbors. Style this faux plant in cohesion with other plants for a relaxed look. We recommend looking into our Buddha accents that bring the restaurant look to any space
5′ Bay Leaf Cone Topiary Artificial Tree UV Resistant (Indoor/Outdoor)
The bay leaf artificial cone topiary tree's green foliage is carefully placed to overlap one another, leaving no space between the leaves to be seen. With its height of 5-feet, this tree can be used to accentuate the furniture pieces in your living room. Place it beside your mantelpiece, entertainment system, or even between two chairs to give your arrangement a beautiful focal point. It's UV-resistant leaves ensure you can use it inside or outside. This realistic looking artificial outdoor tree will help save you time and money on expensive landscaping, as this tree requires no care.
Since it's housed in a nursery planter, we recommend pairing it with your planter for a DIY project. Also, to add curb appeal, dress multiples horizontally across the parking area or patio for a cohesive look. Especially if you're looking to sell your home, adding greenery can help increase your home's value and make a great first impression with buyers. This is an affordable way to add more value for all parties.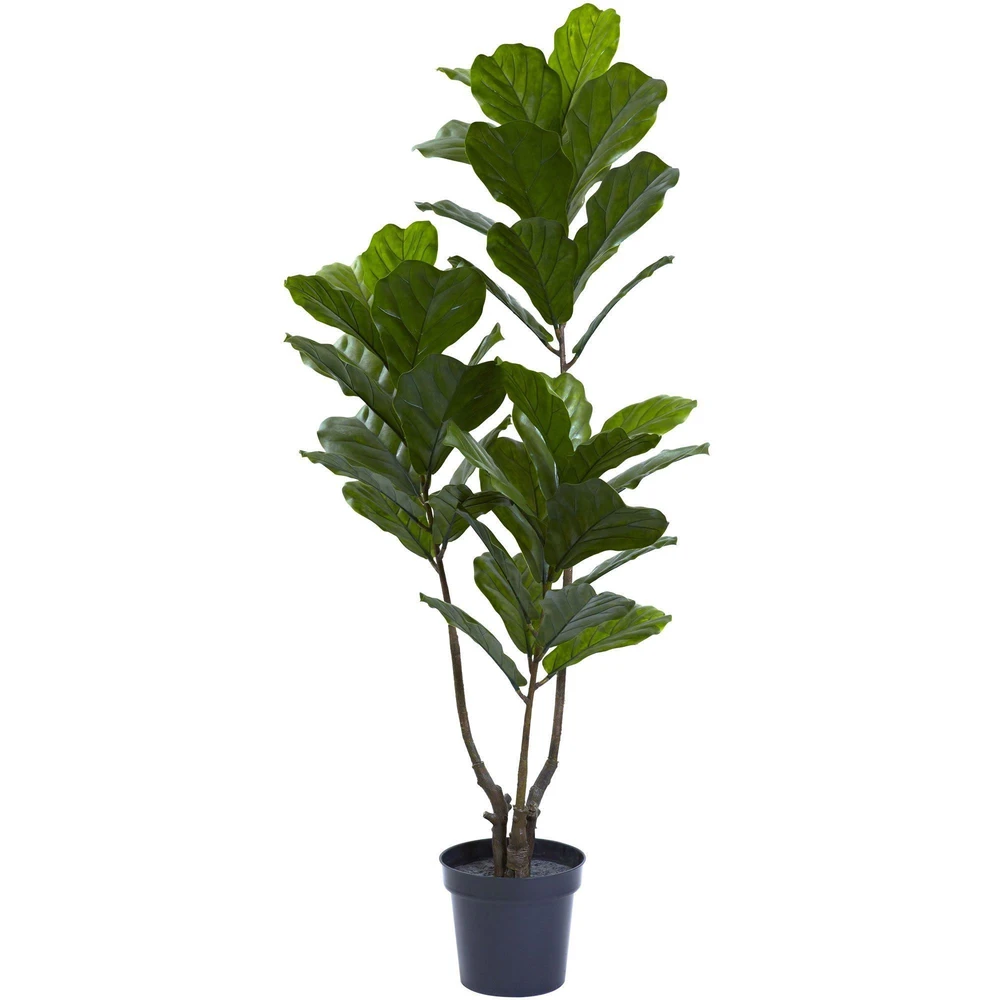 65″ Fiddle Leaf Tree UV Resistant (Indoor/Outdoor)
The perfect accompaniment for your home, office, or even your patio. Standing tall at more than 5 feet in height, it has 3 trunks and 42 billowing leaves. It's fully UV resistant, so you can comfortably place it indoors or out. It also never needs water, and will stay looking fresh and green for years to come. And if you have a nature lover on your gift list, well, here's your perfect present. Known as the mean girl in the jungle, this fake outdoor plant that looks real will transform your space from dull to fab and trendy. Fiddle Leaf Figs are everywhere, scroll throw any modern magazine, and you'll see them. Designer tip: Pair with other similar larger leaved trees such as a Monstera, both are rich in green foliage. You can also add in any bare space next to some flowers to bring different colors and textures with the exotic foliage.
64″ Travelers Palm Tree UV Resistant (Indoor/Outdoor)
This regal, stately Travelers Palm Tree is the perfect way to bring some tropical goodness anywhere you wish (even to your patio in cold weather!) Fully UV resistant, this lush re-creation sports six stalks, ending in beautiful palm leaves, and is ideal for both indoor or outdoor decorating. Great for both home and office, it'll never need water and makes a fine gift as well.
We mentioned an escape earlier, and this palm tree brings just that to any outdoor space. This realistic looking artificial plant pairs well in many style decors especially modern or tropical. We all know palm trees are synonymous with the summer lifestyle, and with this outdoor tree, it's summer all year long. Pair next to the grill or alongside some patio furniture for a fun look that'll take you on a warm, vacation. To ensure it lasts longer, occasionally wipe it with a feather duster about once a month and put inside during extreme weather changes such as hurricanes, blizzards or snow storms.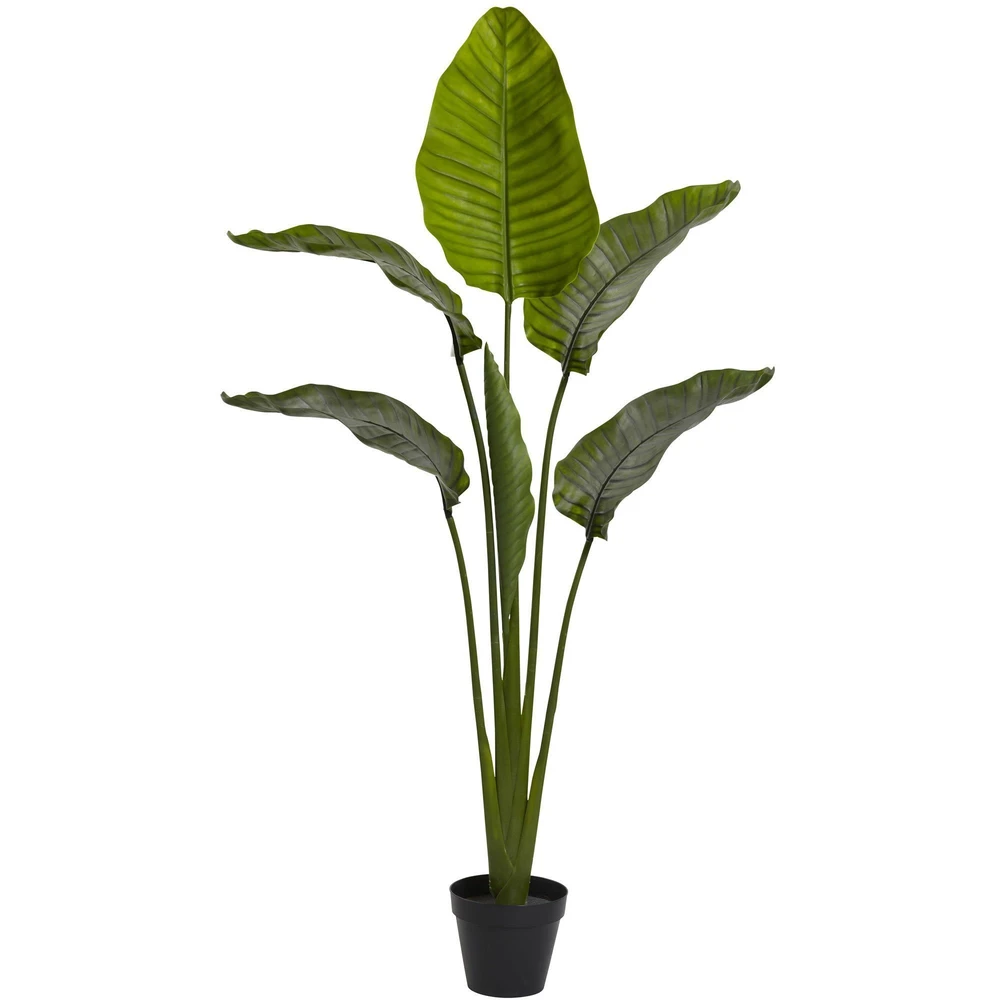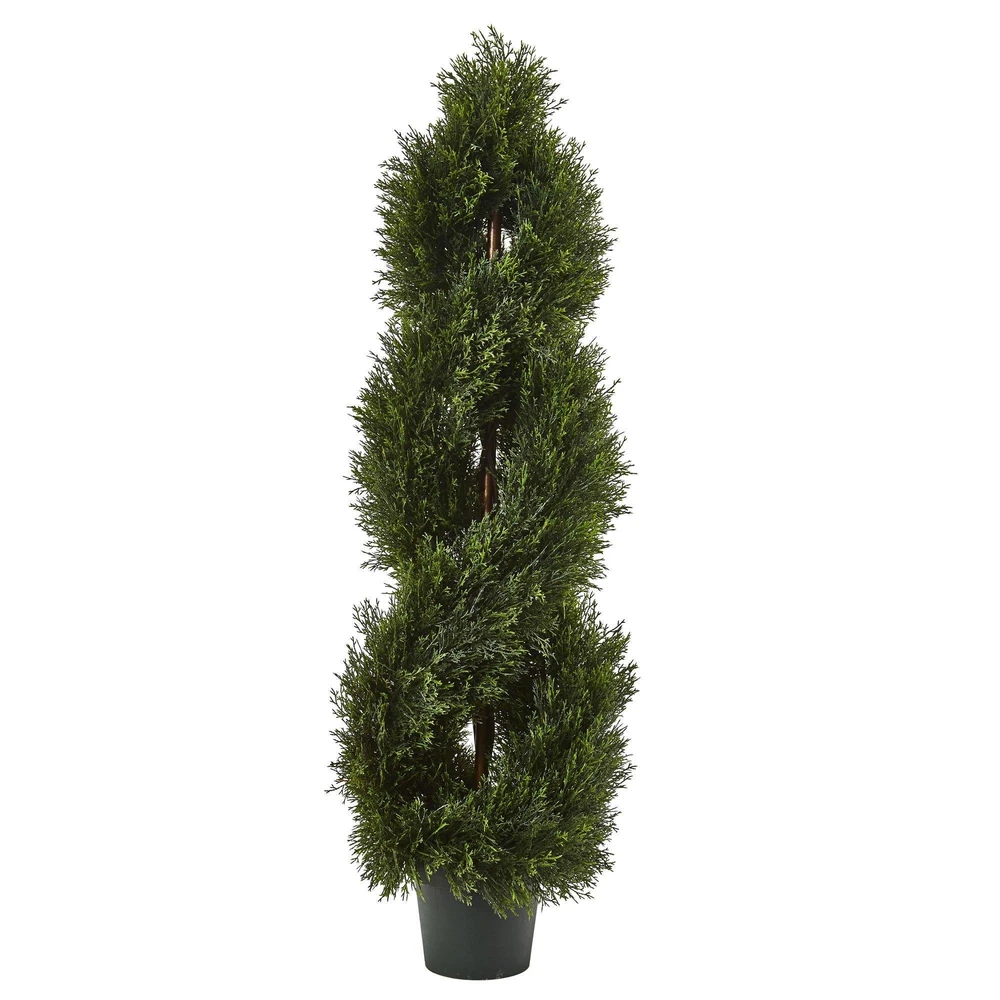 4′ Double Pond Cypress Spiral Topiary UV Resistant (Indoor/Outdoor)
Standing 4 feet tall, this faux Double Pond Cypress plant features two twisting stalks of greenery to form a spiral topiary arrangement. Adorned with 1,036 leaves, this floor plant is handcrafted in fine detail to mimic a real topiary. Place at the front entryway to greet guests or atop an entryway table for added height. Leaves are UV Resistant, suitable for indoor or outdoor use. If you're into the European garden look, look no further. This elegant high end artificial outdoor plant will make you feel as you're walking through a pristine, clean European garden. Never needing maintenance, you can save on pricey landscaping needs by opting for artificial greenery that is inspired by nature. Designer tip: Pair this topiary with topiaries of different shapes and sizes for a refined look. We recommend a ball-shaped topiary side by side for cohesion.
If you want to transform your outdoor area, we hope these top sellers can help you in your home journey, no matter the size. Remember that with artificial you can pick and choose your desired tree in any size all without maintenance. Maybe you're tired of being limited by the location of your space, but you don't have to stress anymore. Achieve your dream garden from anywhere at any time. Even if you have a brown thumb!